Jump to Recipe
This Raspberry Choux au Craquelin 'Fastelavnsboller' is all that is on my mind lately! This one is filled with lots of raspberries! It consists of a Choux au Craquelin filled with Raspberry Custard, and Raspberry and White Chocolate Cream!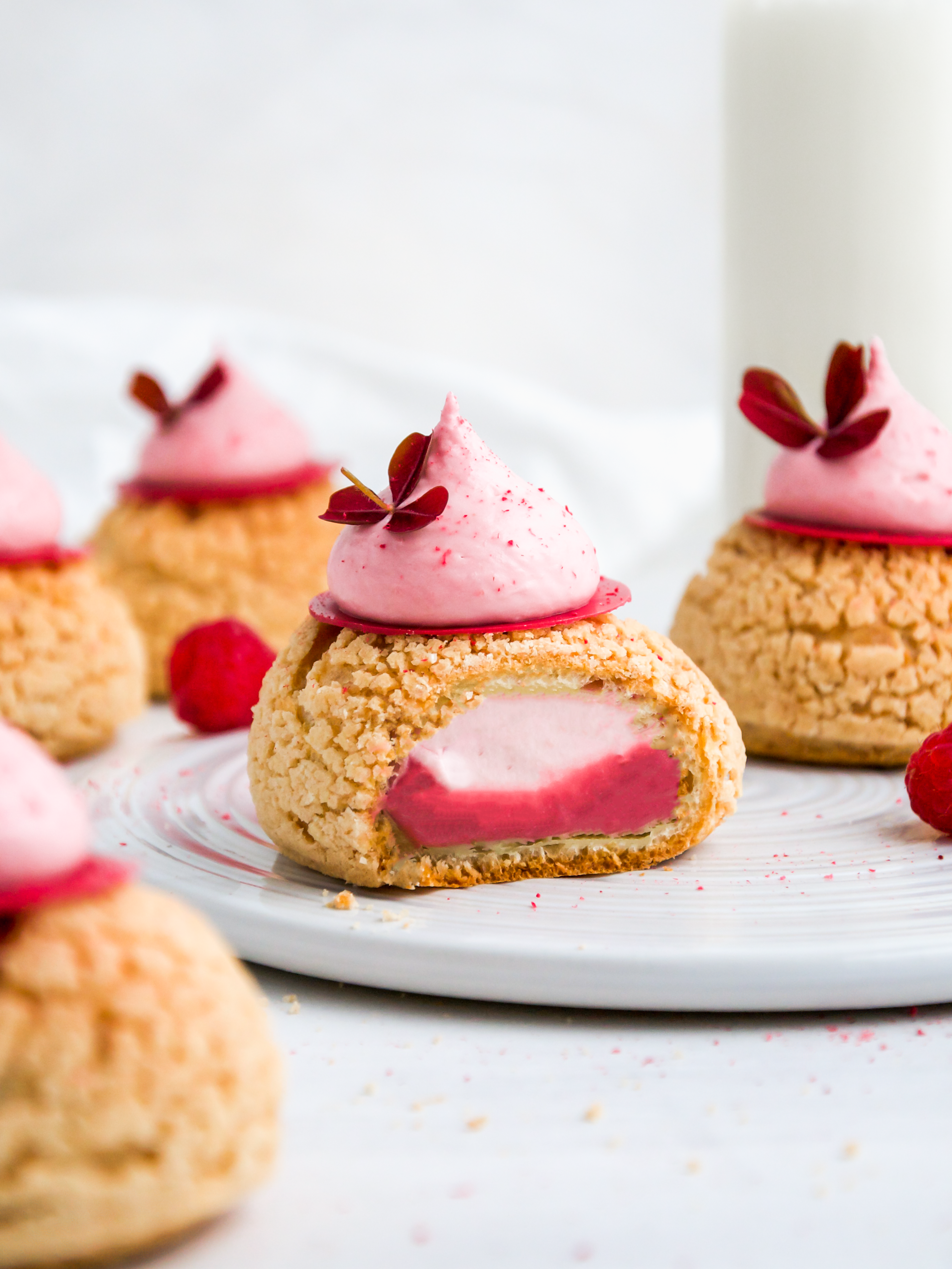 A 'fastelavnsbolle' is one of my favorite treats and I love that the season for Fastelavnsboller lasts for over a month. Fastelavn is kinda an old Danish version of Halloween. On Fastelavn kids dress up as characters, princes, and princesses, ghosts, etc., and knock down a wooden barrel that's filled with candy. It's a really sweet old tradition, but in my opinion, the best part is definitely the buns.
I love Choux au Craquelin, the soft inside, and the crunchy outside, is just so delicious. The paring of tangy raspberry custard with a sweet and creamy white chocolate and raspberry cream is just out of this world and they really just go sound perfectly together!
Find more tips and tricks on Choux au Craquelin in the Baking Basics blogpost.
For more choux au craquelin recipes, try Choux au Craquelin with Coffee Cream and Dulce de Leche, Choux au Craquelin with Raspberry and Nutella and Choux au Craquelin with Raspberry Cream.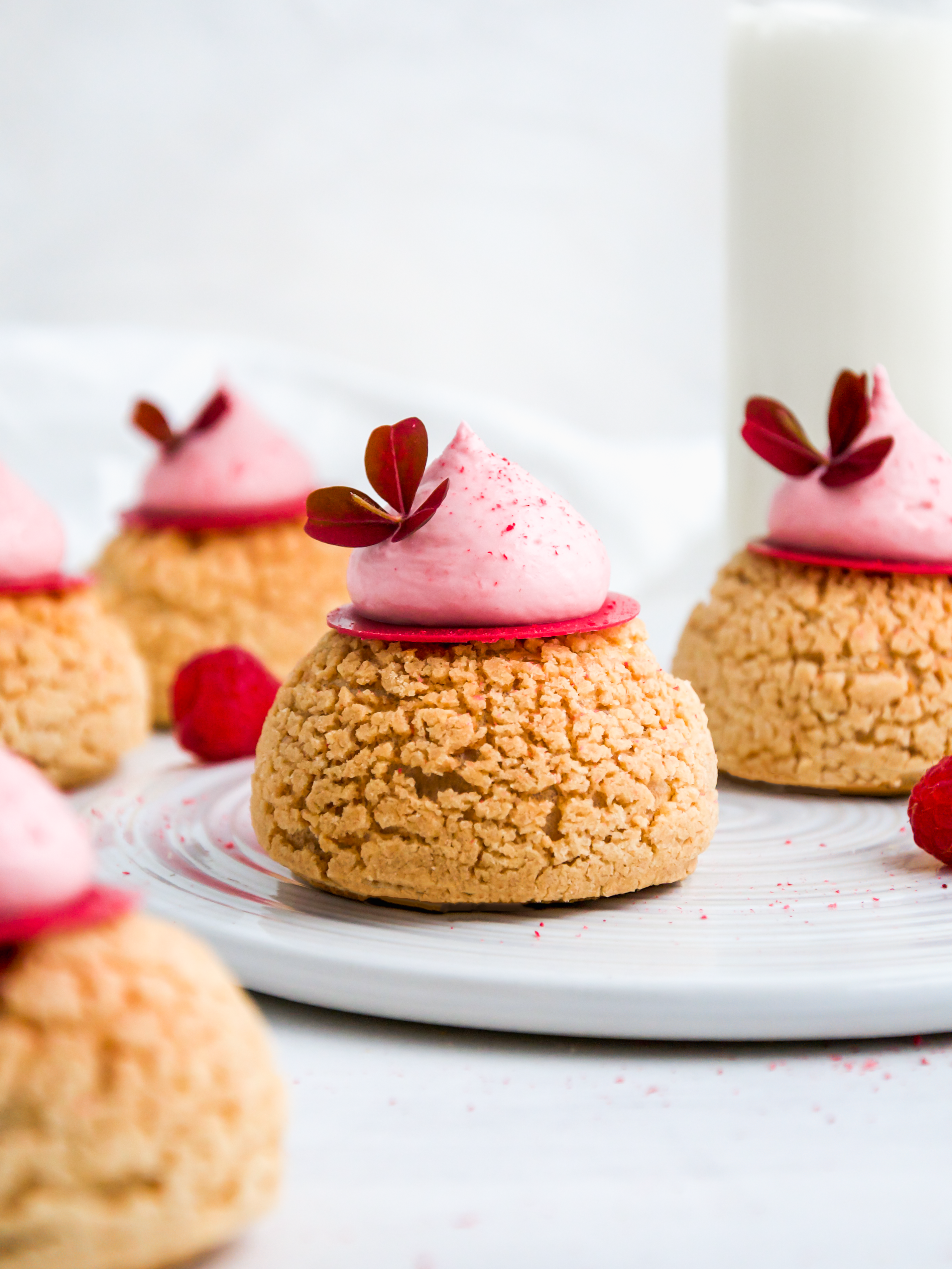 STORAGE
For the best taste and result, Choux au craquelin are best enjoyed immediately when filled. If unfilled store the choux in an airtight container and the filling in the fridge. Then filled them when you are ready to eat them.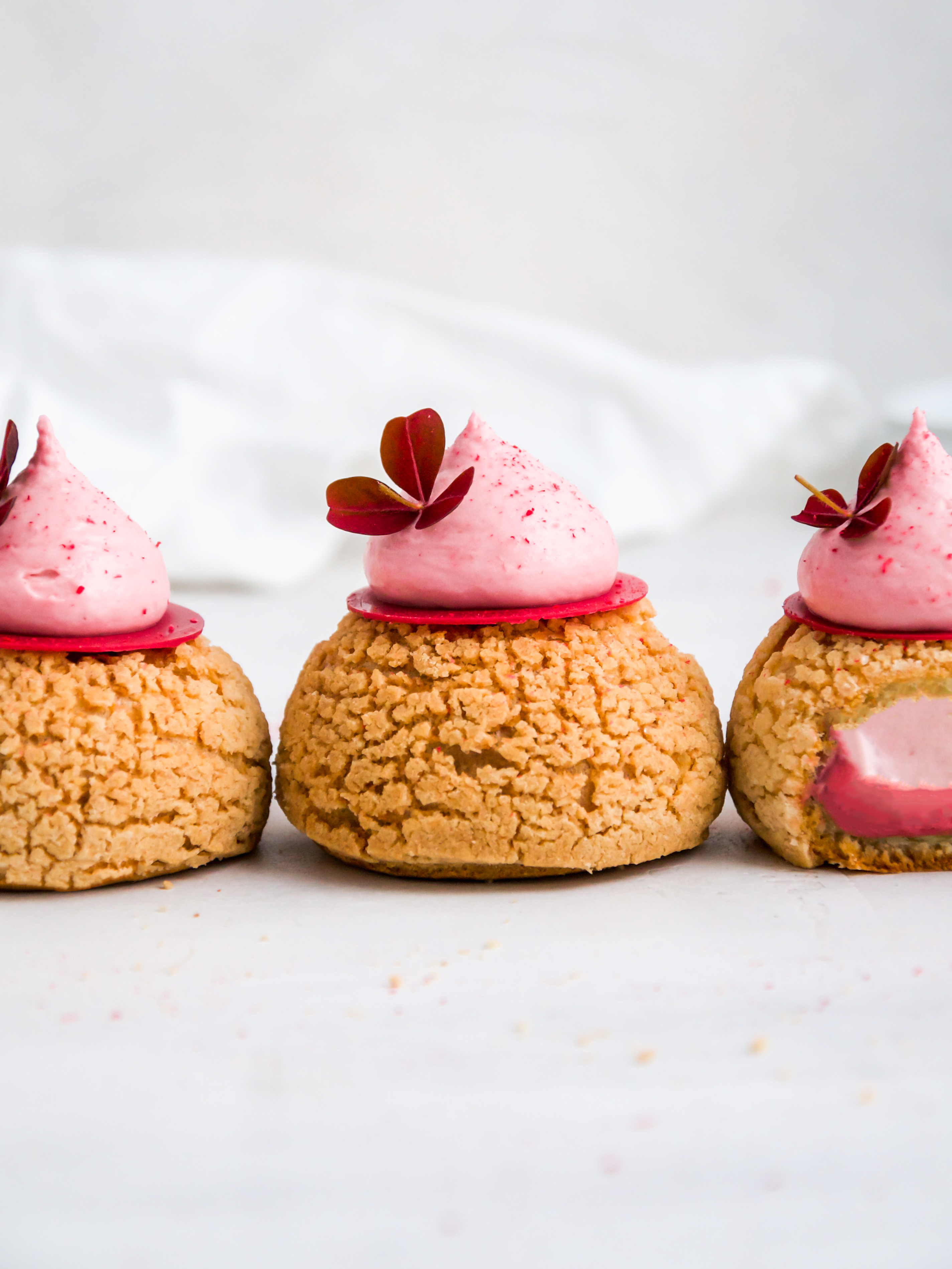 Other Choux au Craquelin Recipes To Try
Make sure leave a STAR REVIEW if you loved this recipe! Make sure to tag me on Instagram @juliemarieeats. To get more ideas by following me on Pinterest.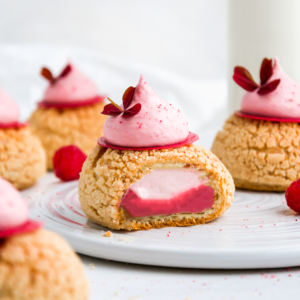 Raspberry Choux au Craquelin
Fresh and delicious Raspberry Choux au Craquelin filled with Raspberry Custard, and Raspberry and White Chocolate Cream!
Ingredients
RASPBERRY PURÉ
200

g

raspberries

frozen or fresh
RASPBERRY PASTRY CREAM
100

g

Whole milk

25

g

Granulated sugar

½

teaspoon

Vanilla paste

100

g

raspberry

2

Egg yolk

25

g

Granulated sugar

15

g

Cornstarch
RASPBERRY AND WHITE CHOCOLATE CREAM
45

g

raspberries

100

g

white chocolate

175

g

heavy cream
CRAQUELIN
25

g

butter

room temperature

30

g

granulated sugar

30

g

all-purpose flour
CHOUX PASTRY
30

g

water

30

g

milk

30

g

butter

¼

teaspoon

salt

5

g

granulated sugar

35

g

strong bread flour

12-14% protein

60

g

large eggs

ca 1-2 eggs, room temperature
CHOCOLATE DECORATION
50

g

Valrhona Raspberry Inspiration chocolate
Instructions
RASPBERRY PURÉ
In a small blender, blend the raspberries until smooth. Sieve the purée from the skin and kernels over a bowl. Set it aside.
RASPBERRY PASTRY CREAM
In a pot add the milk, sugar, and vanilla and bring to a slight boil. Meanwhile, beat the 100 g of raspberry puré, egg yolks, and the other 25 g of sugar together with a whisk. Then add the cornstarch and whisk until combined. When the milk is slightly simmering, take it off the heat and add ⅓ of the warm milk into the egg mixture while whisking. Be sure to whisk all the time, to temper the eggs, so it doesn't turn into scrambled eggs. Pour back the tempered mixture into the rest of the milk and whisk constantly on low to medium heat for about 2 min or until it starts the thicken.

Pour pastry cream into a bowl and cover with a plastic cling film so it touches the cream to prevent it from creating a skin. Set to chill in the fridge.

Tip: Has the custard slightly clumped together or isn't smooth, use an immersion blender and blend it until smooth.
RASPBERRY AND WHITE CHOCOLATE CREAM
In a small pot, heat up 125 g of the heavy cream and 45 g of the raspberry puré to a slight boil and pour it over the white chocolate. Let it sit for 1 min. Stir it together with a rubber spatula. Then take an immersion blender and blend the ganache until smooth. Place some cling film so it touches the surface of the ganache and places it in the fridge for a couple of hours or overnight until completely cold.
CRAQUELIN
Cream together the butter and sugar until well incorporated together. Add the flour and mix it together with the butter and sugar until it turns into a crumbled structure.

Transfer the dough to a piece of parchment paper. Then place another piece of parchment paper on top and roll it out until it's about 2-3 mm thick.

Place it in the freezer for 30-40 min.
CHOUX PASTRY
Preheat the oven to 180ºC conventional oven. Prepare a baking tray lined with parchment paper or a performative mat (Airmat).

Bring water, milk, butter, salt, and sugar to a boil over medium heat. Give it a stir once in a while to make sure that the butter, sugar, and salt have dissolved before the milk and water starts to boil. Once boiling remove from heat and add the flour. Using a heat-proof spatular quickly stir it in. Once all the flour has been incorporated, and there are no flour lumps, put it back on medium heat and stir constantly for 2 min. When it's done, the dough will collect itself and form a ball/balls and there is a film of dough at the bottom of the pan if you use a stainless steel pan.

Transfer it to a stand mixer with a paddle attachment or use a hand mixer. At low speed, whisk for 2 minutes so the dough can cool down a bit. Whisk in the meantime the eggs together. Once the dough has cooled down a bit, slowly pour in the eggs along the side of the bowl, about ⅓ of the egg mixture at a time, until it's all well incorporated. With the last ⅓ of the egg mixture, add it a little bit at a time. Depending on the dough you might not need all the 60g of eggs. I sometimes have a little bit left, what is important is to look for the right consistency. It needs to be sticky, smooth, and glossy and hold its shape. If it's too runny it won't hold its shape.

Transfer the pastry dough to a piping bag with a round tip of about 1cm, I like to use the Wilton 1A tip.

Before you start piping, take the craquelin out of the freezer and let it sit on the countertop while you pipe the choux pastry. Letting it sit for a few minutes makes sure it's doesn't crack when cutting out the circles.

Hold the piping bag at a 90' angle and pipe the choux pastry, on the prepared baking trays, until it's 5 cm in diameter.

With a 6 cm, in diameter, cookie cutter, cut out 6 craquelin circles so they're slightly bigger than the choux pastry and place them on the pastry.

Bake for 30-35 min. Keep the oven door closed so they don't deflate. When it hits the 28 min mark, they should be about a medium golden brown color. Open the oven door and only slightly pull the tray out, and with a sharp toothpick or cake tester, pick a hole in the Choux to let out any extra stream there might be inside them. Be as quick as possible with this. Put them back in and bake them for 2-10 min. Mine took 32 mins to become a perfect crisp golden color, but the time very much depends on one's oven. They should be firm and crispy. If they feel soft let them bake for a few minutes more.

Once done, place them on the top of the stove so they cool off around the heat of the oven. This will make it safer for them not to deflate as the shock of the colder air won't be as intense.

After they have cooled down for about 5-10 min, transfer them to a cooling rack to cool down completely.
CHOCOLATE DECORATIONS (OPTIONAL)
Temper the Valrhona Raspberry Inspiration chocolate and pour it on a piece of cake plastic or parchment paper. Even it out with an offset spatula until a nice thin layer. Let it set on the table. Once the chocolate has almost set gently, use a 6 cm cookie cutter to make 6 circles in the chocolate. Let it completely set. Once set break the circle out.

Once the chocolate decoration is ready, and you're ready to serve, take it out of the fridge and take out the circles.
ASSEMBLING
Once you're ready to serve cut the very top of the Choux buns horizontally off. You just want a small hole so you can fill the Choux buns.

Give the raspberry custard a whisk and add it to a piping bag.

With a mixer, whip the raspberry and white chocolate ganache until it starts to leave trails. Then add the remaining 50 g of heavy cream and whip on until medium/ stiff peak. Be careful not to over whip the cream so it doesn't split. Add it to a piping bag with a large round tip, I used an 18mm piping tip.

Pipe the raspberry custard halfway. Then filled the other half with the raspberry and white chocolate cream, up till the edge. Place a chocolate circle on top and pipe a dollop of the raspberry and white chocolate cream on top.

Decorate with edible flowers and raspberry dust.

Best enjoyed immediately
Nutrition
Calories:
378
kcal
Carbohydrates:
44
g
Protein:
7
g
Fat:
20
g
Saturated Fat:
11
g
Polyunsaturated Fat:
1
g
Monounsaturated Fat:
6
g
Trans Fat:
0.003
g
Cholesterol:
142
mg
Sodium:
156
mg
Potassium:
245
mg
Fiber:
4
g
Sugar:
30
g
Vitamin A:
672
IU
Vitamin C:
16
mg
Calcium:
120
mg
Iron:
1
mg