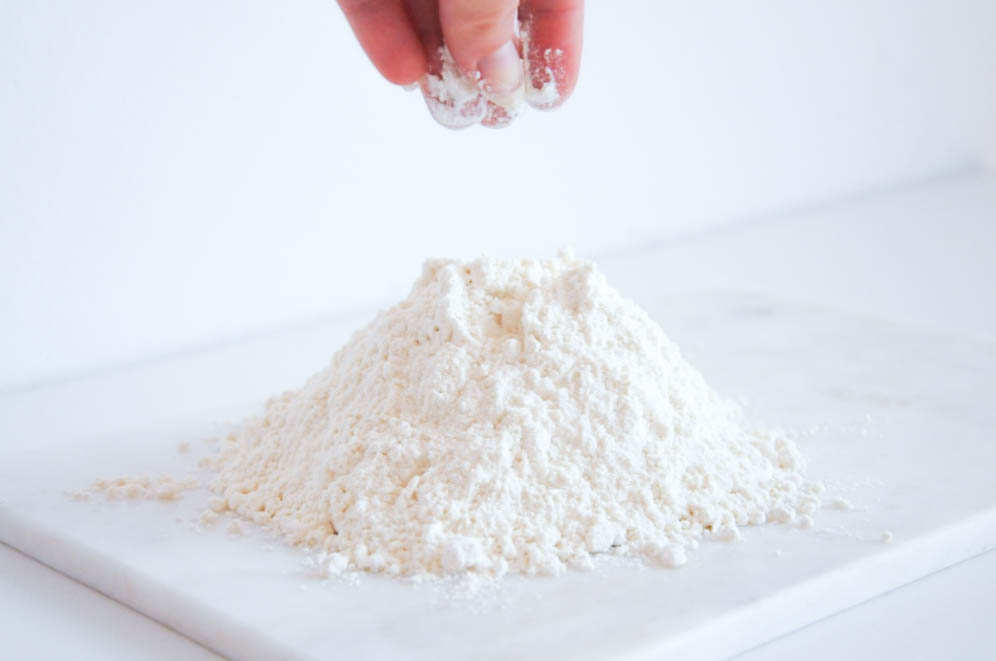 I came across the word cake flour over the years while rehearsing recipes and baking cakes, but up until a year ago I had only used normal all-purpose flour (11% protein), but after I started using cake flour I have not gone back. Cake flour (8-9% protein) makes for the fluffiest and spongest cakes. I really love it.
You can either buy cake flour in your local store or make it yourself if you don't have a store near you that sells it. It SO easy you don't even need to hesitate to start.
So here's how you do it:
---
1 cup (120g) all-purpose flour minus 2 tablespoon all-purpose flour + 2 tablespoon cornstarch = 1 cup of cake flour
---
Take a bowl. Add the 1 cup of all-purpose flour and then remove the 2 tablespoon of all-purpose flour again. Then add the 2 tbs of cornstarch. Take another bowl with a fine mesh sift and sift the flour and cornstarch mixture twice, so the cornstarch is well mixed in with the flour. Transfer into a preferred container, preferably an airtight one.
When you add cornstarch to flour it will help inhibit the formation of gluten and give the cake a light and spongy texture.
If a recipe calls for all-purpose flour, and you want to substitute it with cake flour, you need to add ¼ cup extra of the cake flour as it weights less.
Hope this will help you make even more spongy and delicious cakes.