Ever wondered how you get that perfect Choux au Craquelin bun? Well, I'm here to help you out! I've created this blog post to break down a step by step guide on to make a perfect Choux au Craquelin.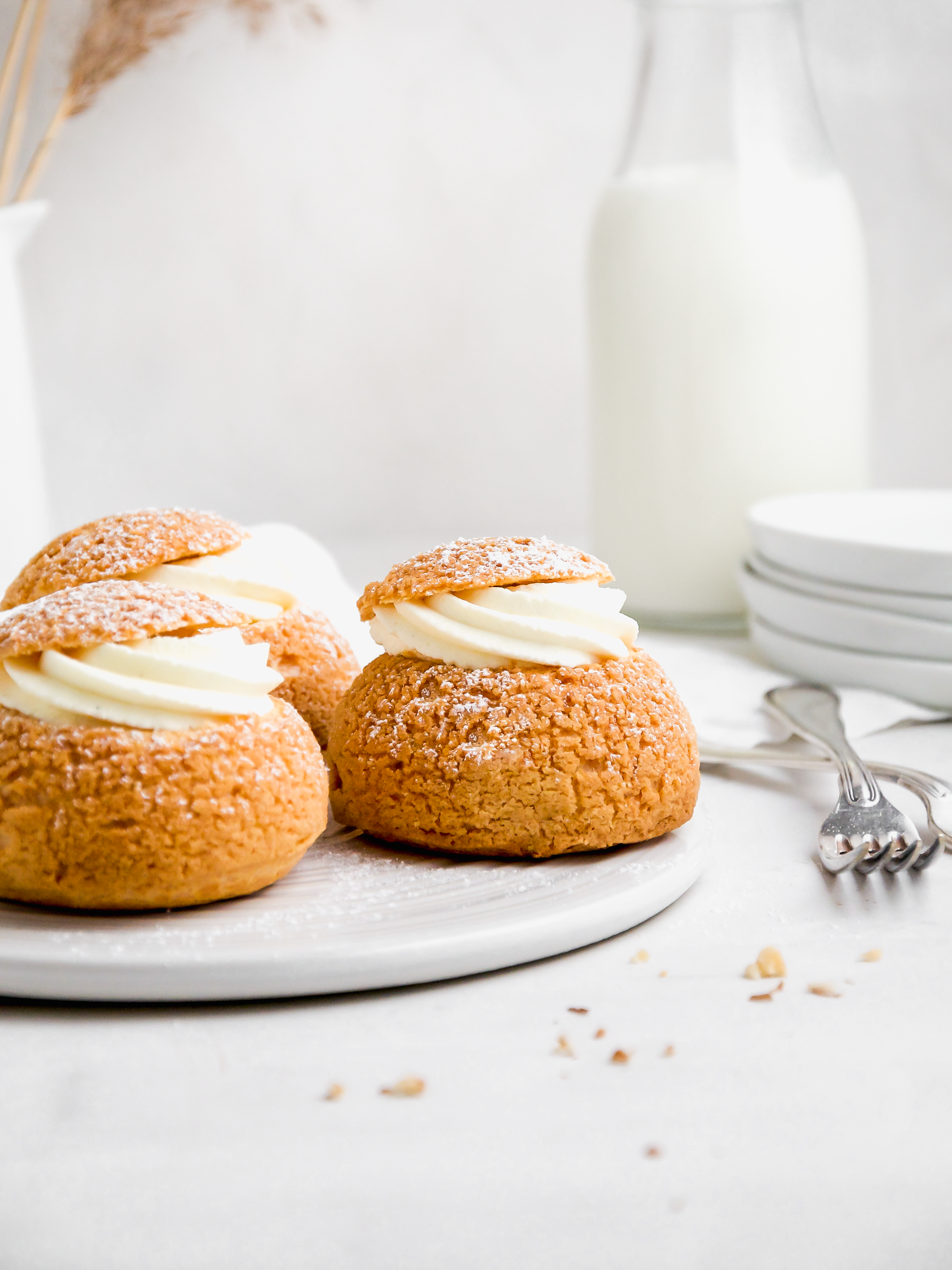 So what do we look for when you talk about a great result?
1. you want it to be nice and hollow inside so all of the pastry dough has been pushed to the edges of the bun.
2. you want to have a nice firm and crispy outside and soft delicate inside.
3. the Craquelin should have spread out in an even layer over the Choux pastry and reached a crisp golden color.
WHY IS CHOUX AU CRAQUELIN SO DELICIOUS?
I absolutely love Choux au Craquelin. I can literally eat the bun on its own without filling. It just tastes so good. What makes it amazing, is the soft interior that meets the crunchy exterior of the Craquelin cookie. These buns can be filled with any of your favorite flavors.
Check out these recipes for more Choux au Craquelins, Choux au Craquelin with Raspberry and Nutella, Choux au Craquelin with Coffee and Dulce de Leche and Raspberry Choux au Craquelin.
Choux au Craquelin might sound fancy and difficult, but I promise it's a lot easier than you'd think and only requires basic ingredients. This recipe makes 12 buns.
THE CRAQUELIN
The Craquelin only requires 4 ingredients. It can even go down to only 3. For Craquelin you only need
In my recipe, I use a mix of granulated sugar and brown sugar. Brown sugar gives a lovely amber note to the Choux bun, but are you out of brown sugar then don't worry, then you can just swap it out with granulated sugar and only use that for the Craquelin.
For the Craquelin, you can add a variety of food coloring (I recommend using gel colors) or flavorings like freeze-dried raspberry dust etc. A colored Craquelin is a fun way to indicate the flavors that are inside of the bun.
As mentioned earlier in the post, the Craquelin, when baked, should have spread out in an even layer over the Choux pastry and reached a firm and crispy shell and have a lovely golden color.
THE CHOUX PASTRY
The Choux pastry is the same pastry that you make profiterole or eclairs with. It's a simple and delicious pastry that has the most amazing interior.
When the Choux has almost finished baking, a good trick to let any extra steam out is to slightly slide out the baking tray, and poke a small hole in the bun and let the excess steam out, and then pop them back in to finish baking.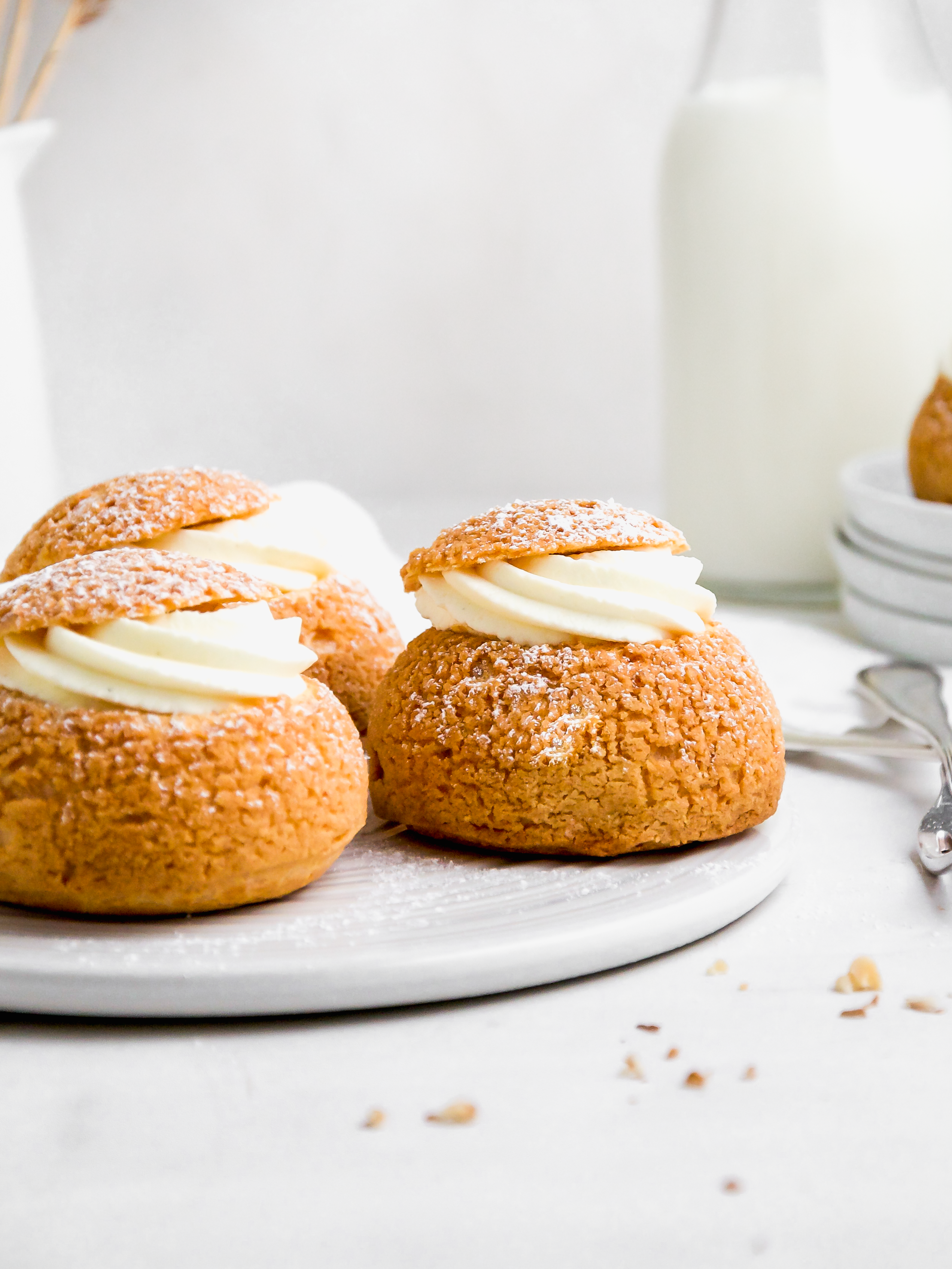 WHAT TOOLS ARE NEEDED?
There are no special tools need to get a great result, but there are tools that can help you advance the bun.
Cookie cutters: Using a cookie cutter helps make the Choux au Craquelin become perfectly round and even.
Piping tip: A round 1 cm piping is helpful to create a perfectly round Choux, but if you do not own such a piping tip then just cut off the tip of a piping bag.
Performative baking tray: A performative baking tray is great to create a lot of air circulation but a normal baking tray can also work just a well. As you can see in the video, I used a normal baking tray to demonstrate that, which also create a great result.
Performative baking mat (Air Mat): As well as the performative baking tray, a performative baking mat creates a lot of air circulation, but as with a normal baking tray, normal baking paper also works just as well.
With that said what the performative baking tray and mat can do is create a better possibility to get a nice and hollow interior. The air circulation helps the Choux rise evenly so the interior is nice and hollow.
TROUBLESHOOTING
How large should the Craquelin be?
It depends on how much you'd like the Craquelin to spread over the Choux pastry. I like the Craquelin to cover the whole Choux pastry, so I, therefore, use a 1 cm larger cookie-cutter than the size of my Choux pastry. In the recipe, I, therefore, use a 5 cm cookie cutter to outline for the Choux pastry and a 6 cm cookie cutter to cut out the Craquelin.
Why does the Craquelin break?
The Craquelin breaks if the dough is too frozen. Therefore make sure that once you are ready to pipe the Choux pastry, take out the Craquelin, so it can thaw for a few minutes.
What if the Craquelin is too soft to handle?
Just pop the Craquelin back in the freezer for a few minutes and it'll firm up again.
What is the right Choux pastry consistency?
When looking for the right Choux consistency, you want it to be sticky, smooth, and glossy and hold its shape. If it's too runny it won't hold its shape. I therefore always mix my eggs together in a measuring jug, and pour in the egg mixture ⅓ at a time, instead of adding a whole egg at a time, as you might not need the full amount of eggs. It can depend on how much moisture is in the dough already. I therefore sometimes have a little bit of egg left, so what is important is to look for the right consistency.
When adding the eggs, therefore start with adding ⅓ of the egg mixture at a time, until it's all well incorporated. With the last ⅓ of the egg mixture, add it a little bit at a time until you reach the right consistency.
Why is my Choux au Craquelin not perfectly round?
you didn't dehydrate the dough long enough when cooking it over the stove. Make sure to constantly stir the dough over the stove for 2 min.
opened the door to early
wrong oven temperature
too thick of a Craquelin and it's, therefore, weighing down the Choux pastry.
What do I do if I don't want to make all 12 at once?
If you don't want to make all 12 at once, you can freeze the Craquelin and Choux pastry separately. For the Choux dough, pipe the dough until it's 5 cm in diameter and freeze them. You can also use a half-circle silicone mold and fill it half way, and place it in the freezer.
Assemble the Choux and Craquelin once you're ready to bake them, by placing the Craquelin on top of the frozen Choux pastry. Add additionally 5-10 min of baking time as they need time to thaw in the oven.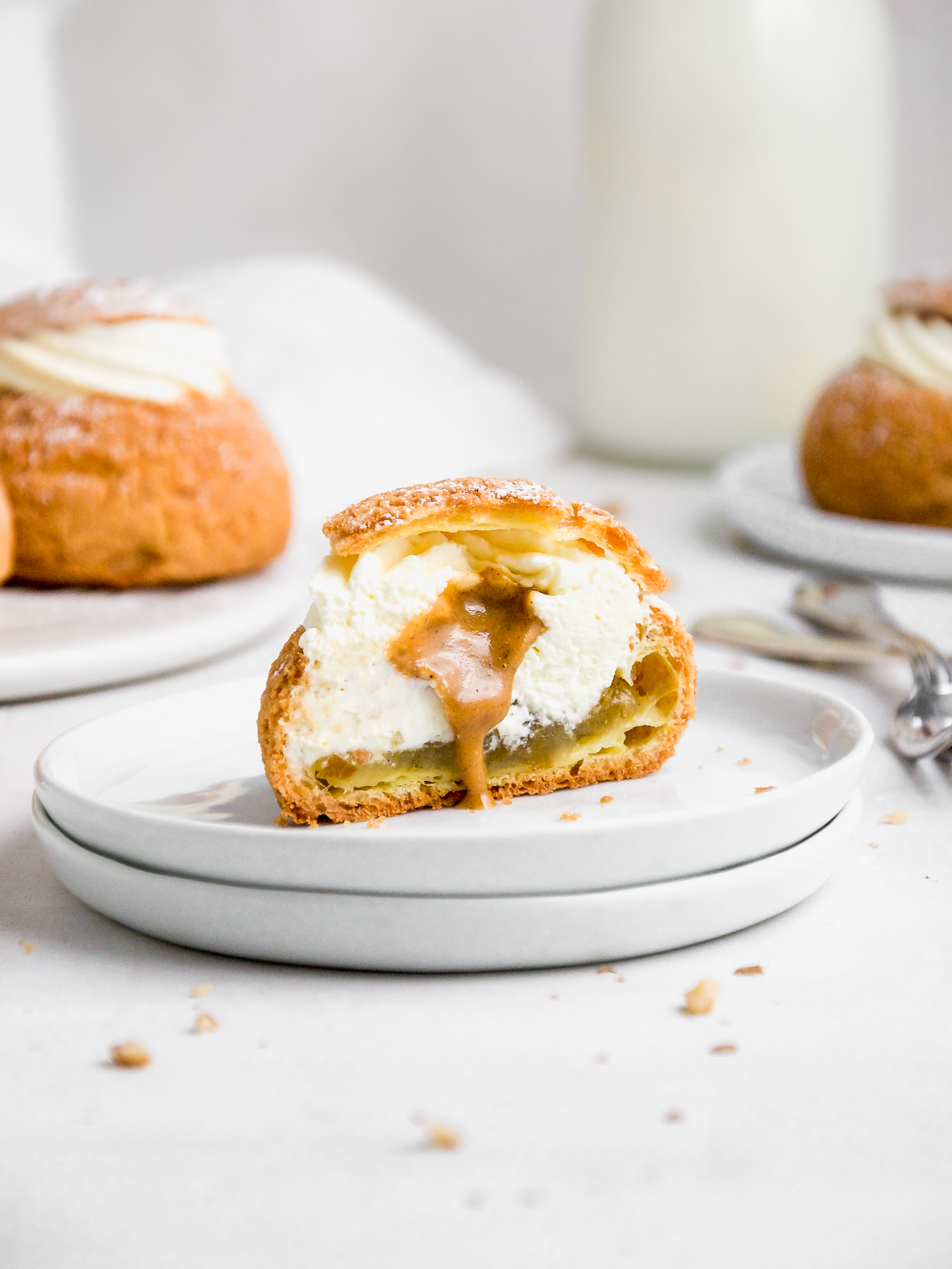 OTHER CHOUX AU CRAQUELIN RECIPES TO TRY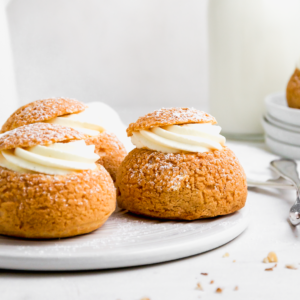 Choux au Craquelin
How to make the most perfect and delicious Choux au Craquelin buns, with a perfect crunchy exterior and hollow and soft interior.
Ingredients
CRAQUELIN
50

g

butter

room temperature

60

g

granulated sugar

60

g

all-purpose flour
CHOUX PASTRY
60

g

water

60

g

milk

60

g

butter

½

teaspoon

salt

10

g

granulated sugar

70

g

strong bread flour

12-14% protein

120

g

large eggs

ca 2-3 eggs, room temperature
Instructions
CRAQUELIN
Cream together the butter and the sugars until well incorporated together. Add the flour and mix it together with the butter and sugar until it turns into a crumbled structure.

50 g butter,

60 g granulated sugar,

60 g all-purpose flour

Transfer the dough to a piece of parchment paper. Then place another piece of parchment paper on top and roll it out until it's about 2-3 mm thick.

Place it in the freezer for 30-40 min.
CHOUX PASTRY
Preheat the oven to 180ºC conventional oven. Prepare two baking trays lined with parchment paper or a performative mat (Air Mat). Dip a 5 cm cookie cutter in some confectioners sugar and outline 6 circles on each tray. This will make it super easy to have even sized choux buns.

Bring water, milk, butter, salt, and sugar to a boil over medium heat. Give it a stir once in a while to make sure that the butter, sugar, and salt have dissolved before the milk and water starts to boil.

60 g water,

60 g milk,

60 g butter,

½ teaspoon salt,

10 g granulated sugar

Once boiling remove from heat and add the flour. Using a heat-proof spatular quickly stir it in. Once all the flour has been incorporated, and there are no flour lumps, put it back on medium heat and stir constantly for 2 min. When it's done, the dough will collect itself and form a ball/balls and there is a film of dough at the bottom of the pan if you use a stainless steel pan.

Transfer it to a stand mixer with a paddle attachment or use a hand mixer. At low speed, whisk for 2 minutes so the dough can cool down a bit.

Whisk in the meantime the eggs together.

Once the dough has cooled down a bit, slowly pour in the eggs along the side of the bowl, about ⅓ of the egg mixture at a time, until it's all well incorporated. With the last ⅓ of the egg mixture, add it a little bit at a time. Depending on the dough you might not need all the 120g of eggs. I sometimes have a little bit left, what is important is to look for the right consistency. It needs to be sticky, smooth, and glossy and hold its shape. If it's too runny it won't hold its shape.

Transfer the pastry dough to a piping bag with a round tip of about 1cm, I like to use the Wilton 1A tip.

Before you start piping, take the Craquelin out of the freezer and let it sit on the countertop while you pipe the choux pastry. Letting it sit for a few minutes makes sure it's doesn't crack when cutting out the circles.

Hold the piping bag at a 90' angle and pipe the Choux pastry, on the prepared baking trays, until it's 5 cm in diameter. There is room for 6 on each tray.

With a 6 cm, in diameter, cookie cutter, cut out 12 Craquelin circles so they're slightly bigger than the Choux pastry and place them on the Choux pastry.

Bake for 30-35 min. Keep the oven door closed so they don't deflate. When it hits the 28 min mark, they should be about a medium golden brown color. Open the oven door and only slightly pull the tray out, and with a sharp toothpick or cake tester, pick a hole in the Choux to let out any extra stream there might be inside them. Be as quick as possible with this. Put them back in and bake them for 2-7 min. Mine took 32 mins to become a perfect crisp golden color, but the time very much depends on one's oven. They should be firm and crispy. If they feel soft let them bake for a few minutes more.

Once done, place them on the top of the stove so they cool off around the heat of the oven. This will make it safer for them not to deflate as the shock of the colder air won't be as intense.

After they have cooled down for about 5-10 min, transfer them to a cooling rack to cool down completely.

They are ready to be filled with your favorite filling! Find inspiration for filling under the recipe category.
Nutrition
Calories:
86
kcal
Carbohydrates:
15
g
Protein:
3
g
Fat:
2
g
Saturated Fat:
1
g
Polyunsaturated Fat:
0.3
g
Monounsaturated Fat:
0.5
g
Trans Fat:
0.004
g
Cholesterol:
39
mg
Sodium:
123
mg
Potassium:
51
mg
Fiber:
0.3
g
Sugar:
7
g
Vitamin A:
106
IU
Vitamin C:
0.4
mg
Calcium:
24
mg
Iron:
0.5
mg