Jump to Recipe
These Biscoff truffles are 4 ingredient bites of heaven. They are so easy and quick to make and taste so good! Sometimes a delicious treat doesn't have to be a big cake. These bites are made with Biscoff cookies, cream cheese and dark chocolate.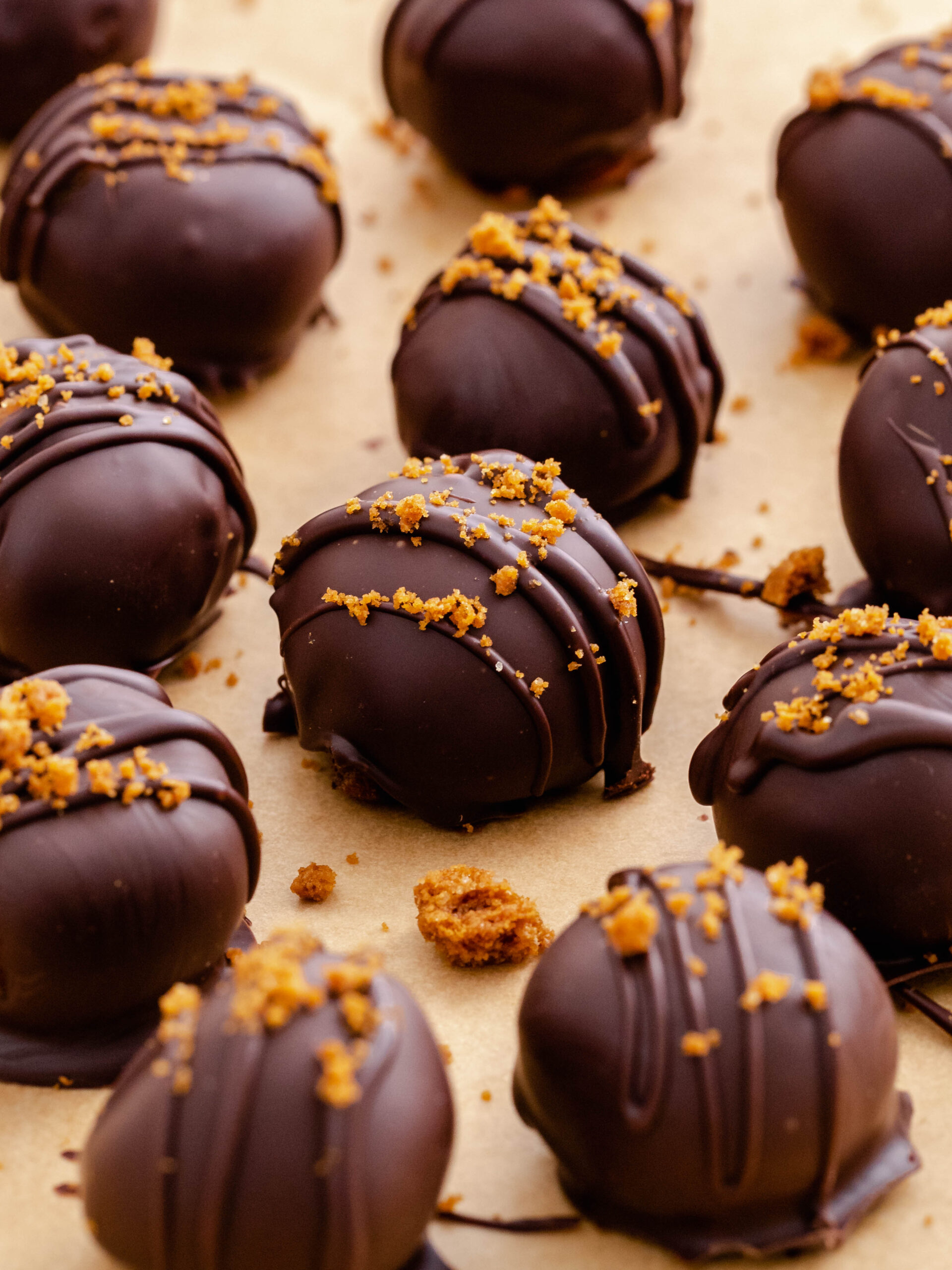 These Biscoff truffles are a quick and easy treat! This recipes uses a food processor making these truffles only take minutes to be done. These bites only need 4 ingredients, biscoff cookies, cream cheese, dark chocolate and a tiny bit of canola oil. So quick and so easy!
Fun fact, while making these bites I realized that the cookies have so many different names dependent on the country like, Speculoose, Bastogne, Biscoff etc. Did you know that? I find that so fun!
For more easy recipes, try Nutella peanut butter cookies, Lemon Pistachio Cake and Banana Nutella Muffins.
Jump to:
WHY THIS RECIPE WORKS
Easy to make: These Biscoff truffles are done in minutes and only requires 4 ingredients.
Biscoff: Whenever using Biscoff cookies, they will always taste amazing!
Dark chocolate: These delicious truffles are covered in dark chocolate shell, that really enhance the flavor.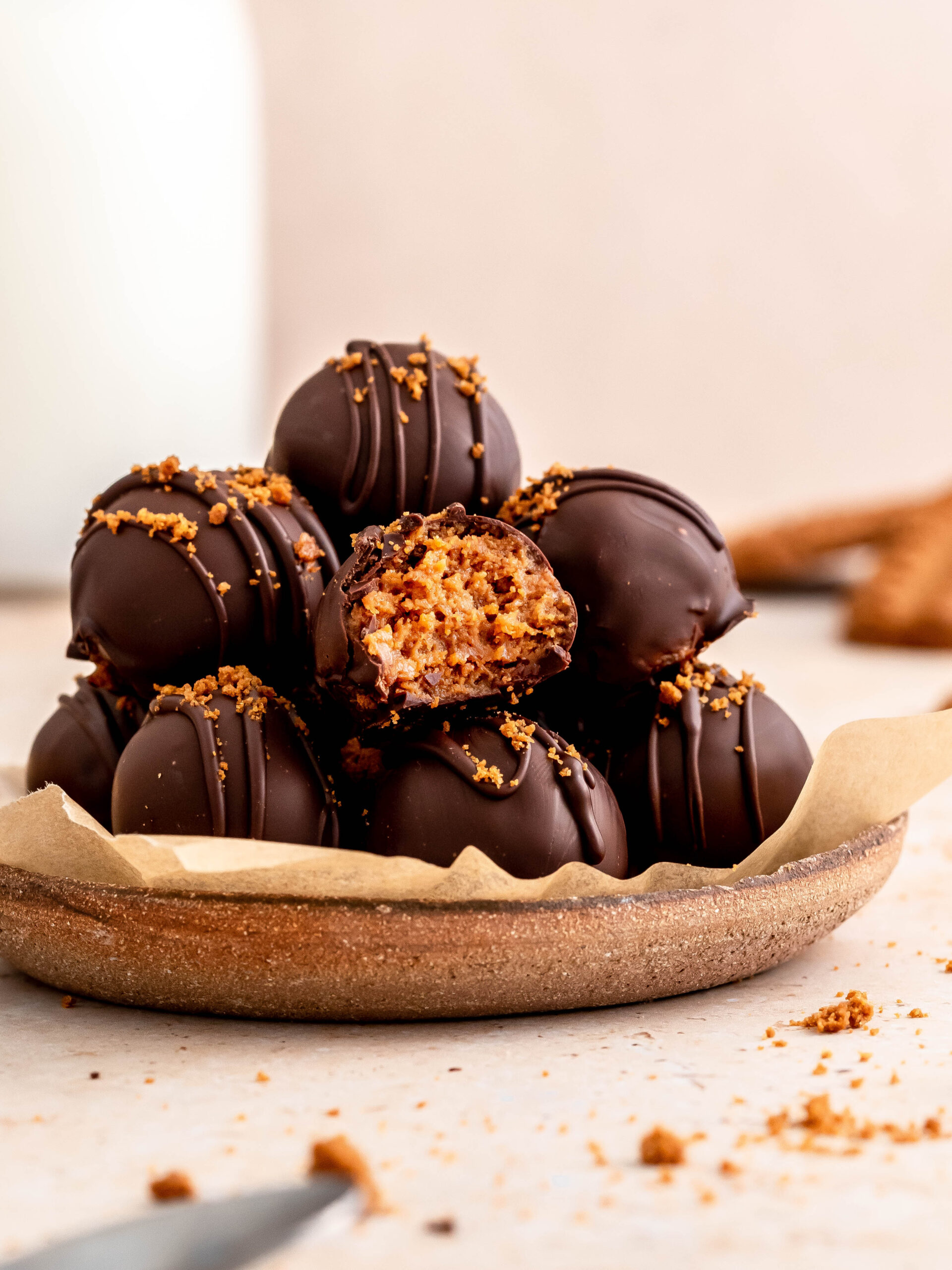 INGREDIENT NOTES
These are some of the key ingredients for this recipe.
Biscoff cookies: The biscoff cookies are the start of the show. They have the most amazing flavor.
Cream cheese: The cream cheese gives a delicious tangy flavor which balances out the sweet flavor off the cookies perfectly.
Dark Chocolate: I recommend a dark chocolate on the sweeter side, e.g. 54,5%, and therefore a not too bitter dark chocolate, for this recipe. A sweeter dark chocolate complements the Biscoff perfectly.
Flavor neutral oil: For an easy, no fail chocolate cover, add a bit of flavor neutral oil to the dark chocolate. It'll give a nice soft chocolate cover.
STEP BY STEP INSTRUCTIONS
Here is how to make and bake these Biscoff truffles. This recipe needs a food processor.
The full recipe is down below in the recipe card.
STEP 1: In a food processor, blend the Biscoff cookies until a fine sand texture.
STEP 2: Add the cream cheese to the food processor and blend it together with the blended cookies. Scrape down the sides of the bowl with a spatula, to make sure everything is combined.
STEP 3: Use a tea spoon or a small cookie scoop and roll out 14 small balls. Place them in the freezer while making the chocolate cover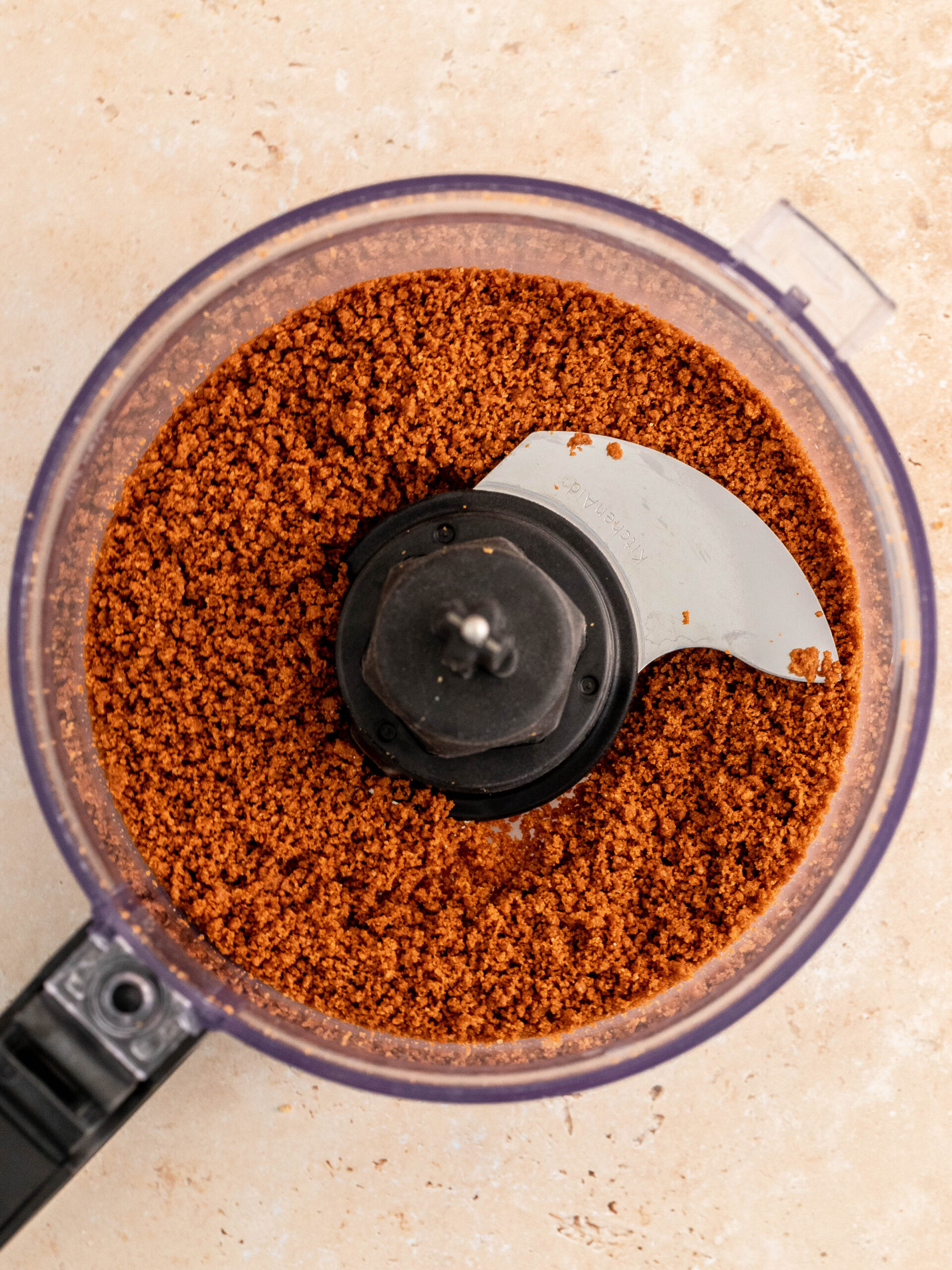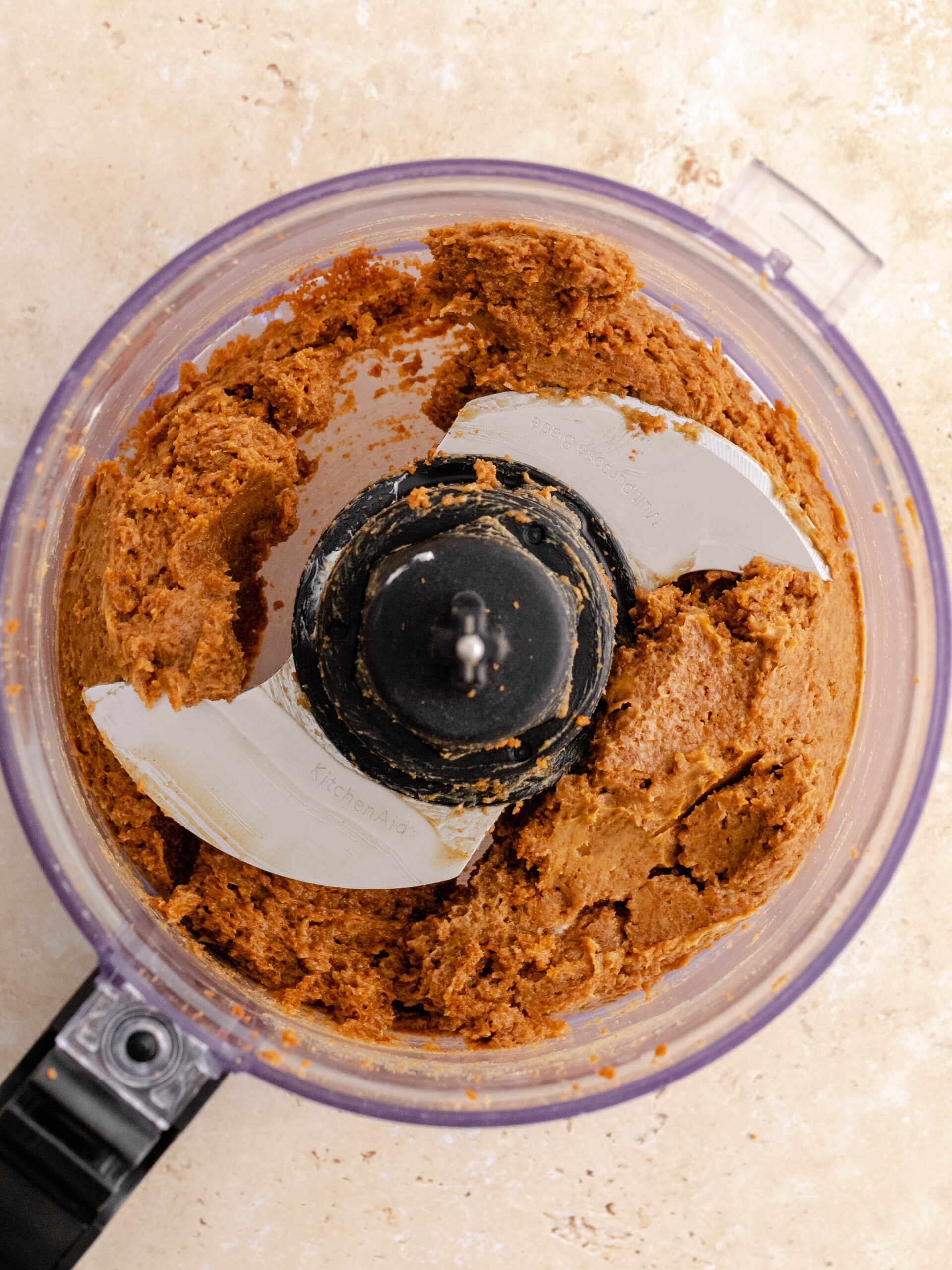 STEP 4: Melt the chocolate and add the flavorless oil and mix it in.
STEP 5: Add the chocolate to a small bowl and take the Biscoff balls out of the freezer. Roll the the chocolate balls in the chocolate, place them on a piece of baking paper to set.
STEP 6: With the leftover chocolate decorate the bites and sprinkle with a crushed Biscoff cookie.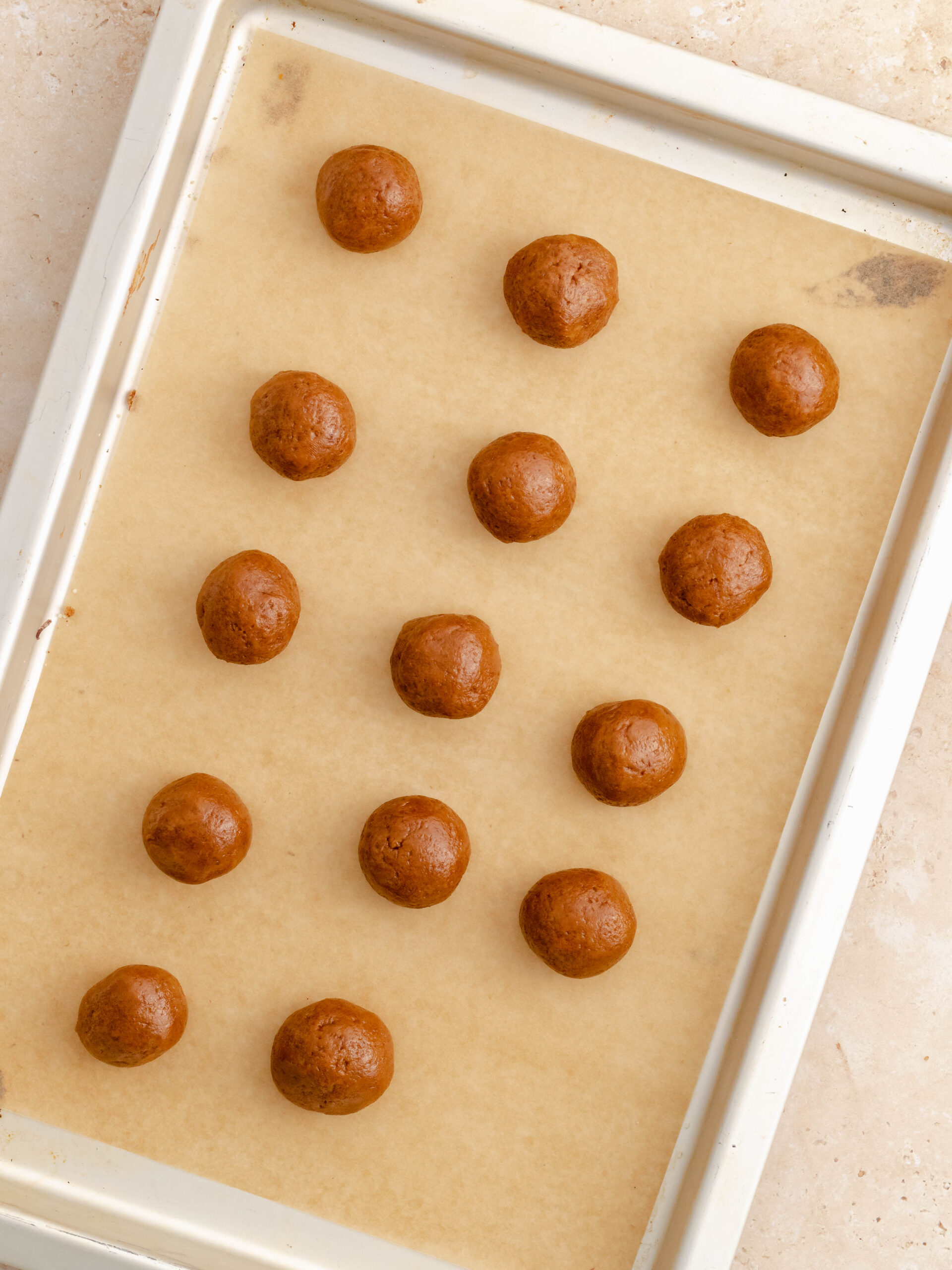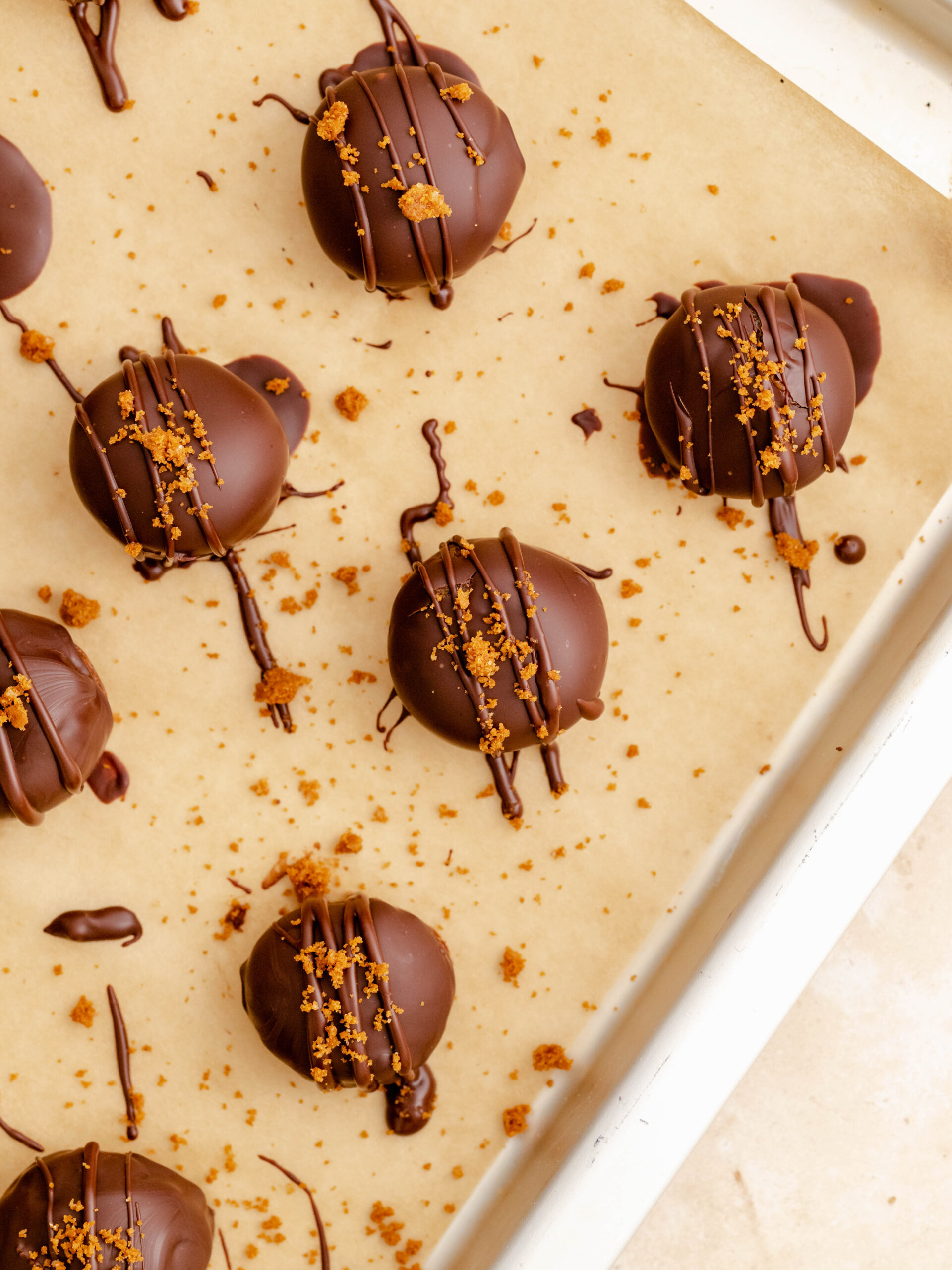 EXPERT BAKING TIPS
Use a kitchen scale: My default setting for my recipes is grams. It is the most precise way of measuring out your ingredients, I therefore highly recommend using a kitchen scale.
Don't over heat the chocolate: Try to melt the dark chocolate until it's just melted. If overheated it will create some grey lines on the chocolate, once it has set. If you feel like tempering the chocolate. It should have an end temperature of around 31ºC-32ºC (88ºF-90ºF).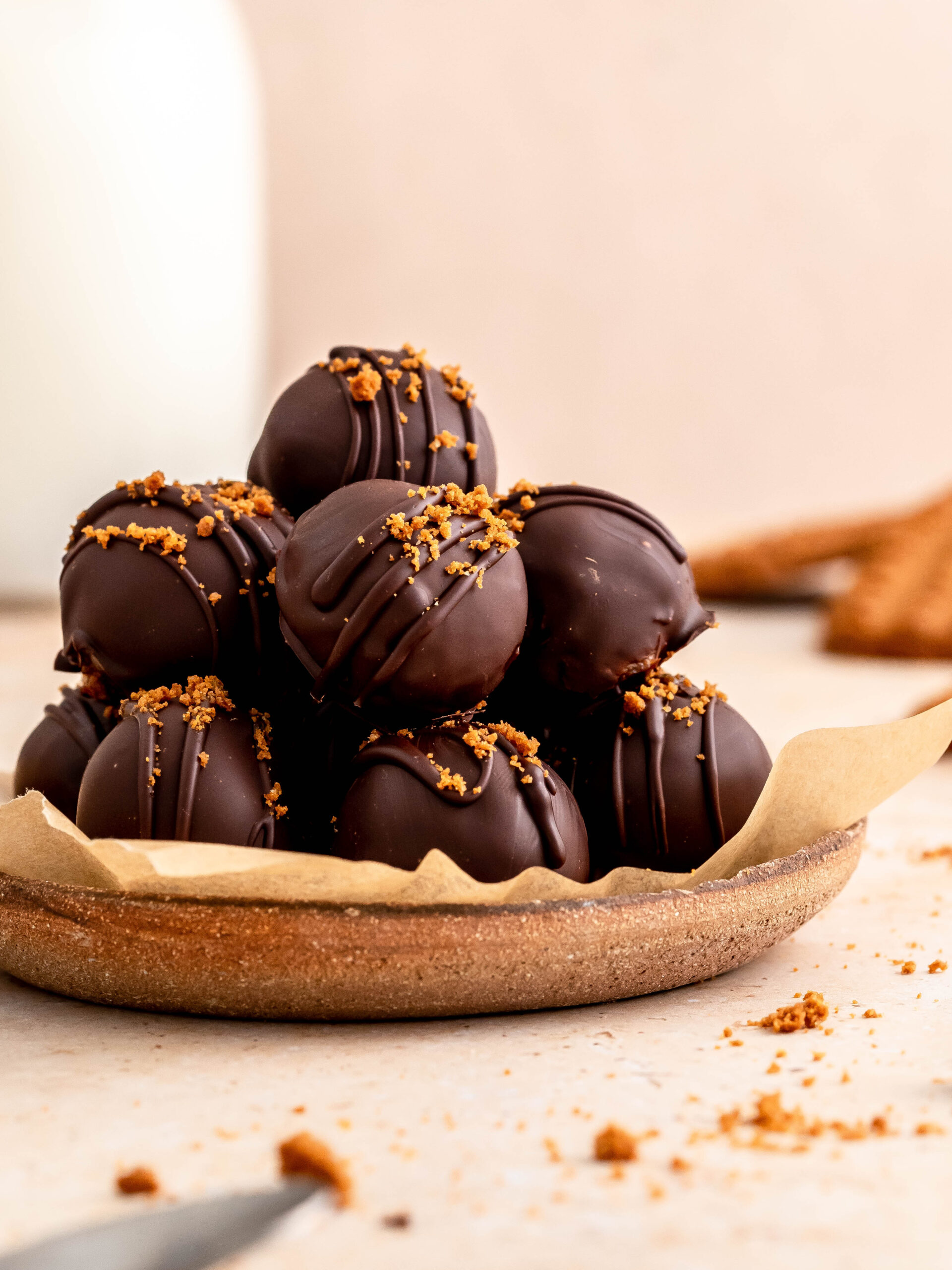 FAQ
My chocolate gets to cold to dip the truffles
Place the chocolate in a microwave and reheat it for 5-10 seconds and it ready to be used again.
Can it be made a day ahead?
Yes, you can make them a head of time, before serving. They can last up to 7 days in the fridge.
STORAGE
Store the Biscoff truffles in the fridge in an airtight container. They can last in the fridge for up to a week.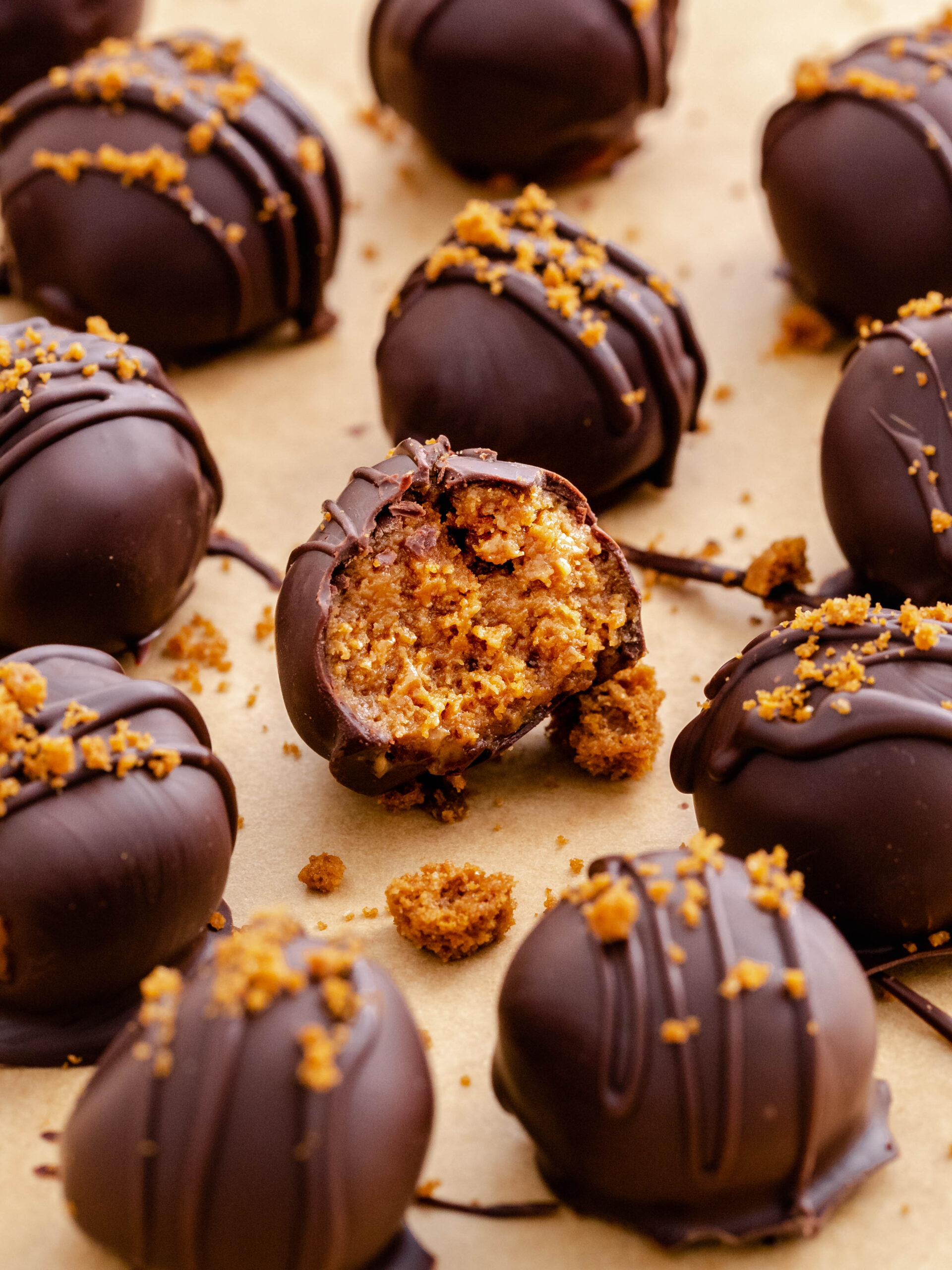 Other Easy Recipes To Try
Make sure leave a STAR REVIEW if you loved this recipe! Make sure to tag me on Instagram @juliemarieeats. To get more ideas by following me on Pinterest.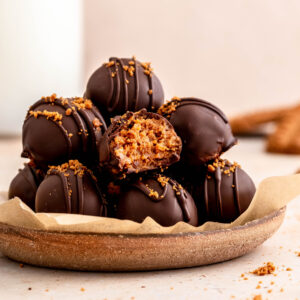 Biscoff Truffles
Super easy and delicious Biscoff truffles using only 4 ingredient! Try these truffles for a easy treat that will impress everyone!
Ingredients
BISCOFF BITES
150

g

Biscoff cookies

75

g

cream cheese

100

g

dark chocolate

2

g

flavorless oil

An extra Biscoff cookies for decoration
Instructions
Biscoff Truffles
In a food processor, blend the Biscoff cookies until a fine sand texture. Add the cream cheese to the food processor and blend it together with the blended cookies.

150 g Biscoff cookies,

75 g cream cheese

Scrape down the sides of the bowl with a spatula, to make sure everything is combined.

Use a tea spoon or a small cookie scoop and roll out 14 small balls. Place them in the freezer while making the chocolate cover.

Melt the chocolate and add the flavorless oil and mix it in.

100 g dark chocolate,

2 g flavorless oil

Add the chocolate to a small bowl and take the Biscoff balls out of the freezer. Roll the the chocolate balls in the chocolate, place them on a piece of baking paper to set.

With the leftover chocolate decorate the bites and sprinkle with a crushed Biscoff cookie.

An extra Biscoff cookies for decoration
Nutrition
Carbohydrates:
9
g
Protein:
2
g
Fat:
9
g
Saturated Fat:
4
g
Polyunsaturated Fat:
0.2
g
Monounsaturated Fat:
1
g
Trans Fat:
0.003
g
Cholesterol:
6
mg
Sodium:
18
mg
Potassium:
58
mg
Fiber:
1
g
Sugar:
5
g
Vitamin A:
75
IU
Calcium:
10
mg
Iron:
1
mg